How do I Register and Activate my GoVida account?
How do I sync my daily steps to GoVida? (Android)
How do I sync my daily steps to GoVida? (iPhone)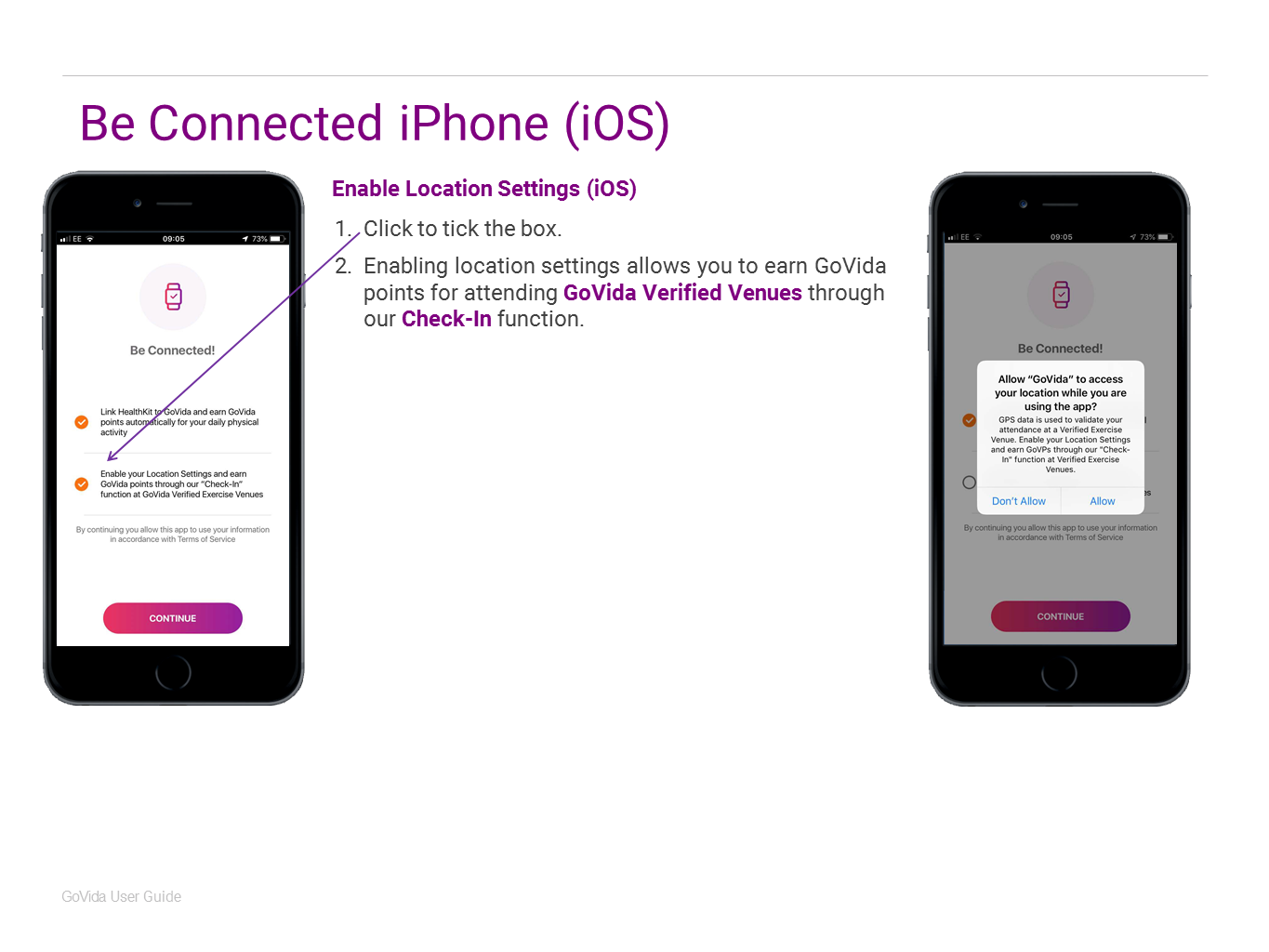 How do I link my Fitbit account to GoVida?
Fitbit accounts can be connected to GoVida allowing you to earn points from your Fitbit steps activity.
To give you more accuracy and flexibility, GoVida takes steps data from your phone via Healthkit (iPhone) or Googlefit (Android) and from your Fitbit smart-watch or tracker.
This means that when you are not using your Fitbit – we will take your steps count from your phone and when you are not carrying your phone we will take the steps from your Fitbit tracker.
In periods where you have both phone and Fitbit we aggregate the data from both your Fitbit and phone.
GoVida connects directly with your Fitbit account.
To sync your Fitbit activity to your account:
Open your Fitbit application and sync your Fitbit activity data (In certain Fitbit wearable models an auto-syncing function is available where your Fitbit steps data syncs to your account automatically.)
Once your Fitbit activity is synced with your Fitbit account (app) open GoVida to see your steps data.
To connect your Fitbit account follow instructions below.
How do I earn GoVida Points (GoVPs)?
There are 3 categories of GoVPs:
Activity GoVPs
Activity GoVPs are earned from your daily wellbeing activities and can be earned from:
Steps
Earn GoVPs from your daily steps output tracked automatically through your smartphone or wearable. You must allow GoVida permission to access this data to earn GoVPs and this can be configured in the app Settings.

| | |
| --- | --- |
| Daily Tracked Steps Value | Number of GoVida Points (GoVPs) |
| 5,000-6,999 steps | 5 |
| 7,000-9,999 steps | 7 |
| 10,000-12,999 steps | 10 |
| 13,000+ steps | 15 |
| Check-In at GoVida Verified Venue | 10 |
| Check-In for Physical or Mind Activity at Home | 10 |
| Track an Activity eg Running, Cycling, Swimming, etc | 10 |
| Daily Insight Response | 1 |
Check-Ins at GoVida Verified Venues
Earn GoVPs through the "Check-In" functionality of our smart phone app at a GoVida Verified Venue. You must be present at the venue for a minimum of 30 minutes for it to be deemed as a valid "Check-In".
The GoVida app validates your attendance through GPS and Location Settings must be enabled for this to occur. This can be configured in the app Settings
Challenge GoVPs
Challenge GoVPs can be earned by successfully completing Challenges within the app. The GoVP value for each Challenge is displayed within the Challenge details in the Challenge Section of the app. (See What are the GoVP value of the Challenges?)
Mind GoVPs
| | |
| --- | --- |
| Mindful Activity | Number of GoVida Points (GoVPs) |
| Listen to Mind Audio in Full | 3 |
| Listen to a Mind Audio everyday of the week | 10 |
| Complete a diploma in Mindfulness | 100 |
Bonus GoVPs
Bonus GoVPs can be earned through the app. These can be earned for varying reasons such as "accepting" a first Challenge and redeeming your first Reward.(See How do I earn Bonus Points?)
Are GoVPs Capped?
Yes, GoVPs are capped in the following ways.
Weekly Cap
GoVPs from steps activity are capped at 70 GoVPs per week.
Check-In Cap
Points from Check-Ins at GoVida Verified Venues are capped at 10 GoVPs per day (1 Check-In) and 30 GoVPs per week. (3 Check-Ins per week)
Daily Steps Cap
Points from Daily Steps activity are capped at 15 GoVPs when 13,000 or more steps have been completed.
Mind Points Cap
Points for Meditations are capped at 6 GoVPs per day (2 Meditations)
How do I check how many GoVPs I have?
On the Home/Dashboard screen of the app you can see the breakdown of the GoVPs that you have earned.
A breakdown can be seen at the bottom of the Home/Dashboard Screen (See Image)
Toggle Today to see earnings for the day and Total GoVPs to see your Total earnings.
GoVPs Redeemed are the total number of GoVida points you have redeemed within the reward catalogue.
Total GoVPs is your GoVida Point balance that can be redeemed for rewards.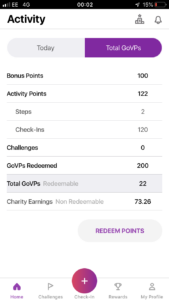 How to Check-In and Check-Out?
To Check-In and Check-Out at a venue requires the following criteria:
User must have a connection either through wifi or mobile data.
User must be at the venue.
User must have spent a minimum of 30 minutes at venue before Checkout to earn the 10 GoVPs (Timer will display within app- See Below)
There may be larger venues where the GPS range defined for the venue does not cover all parts of the venue.
Check-In and Check-Out tip for these venues:  Check-In and Check-Out at the same location within theses venues to ensure you are within the GPS range.
Users can only earn points for 1 Check-In per day (10 GoVPs) and a maximum of 3 Check-Ins per week (30 GoVPs). Users can still perform Check-Ins once this has been achieved for the day or week but will not receive further GoVida points.
If a venue you use is not verified yet by GoVida to put in a verification request either:
Contact us at support@Govida.co.uk with details of the venue (name, address, type of venue) and we will seek to verify.
Submit a Venue Verification Request by Checking-In at the venue. (See Below)
How do I submit a request for a venue to be GoVida Verified?
GoVPs can be earned through Check-Ins and Check-Outs at GoVida Verified Venues.
GoVida Verified Venues are venues where modes of exercise or wellbeing activities takes place.
These can range from gyms to swimming pools to meditation centres and yoga studios and many more.
If a venue is not verified the user can submit a Venue Verification Request through the app.
To do this – search for the venue in search bar – then click on the venue you wish to send a verification request for.
The user must be at this venue to do this and have location settings enabled to validate attendance
User will be prompted to Check-In at this venue and submit a verification request.
GoVida will respond to the verification request within 48 hours.
Users will receive the verification response via an app notification if the venue does or does not fulfill the verification criteria.
Venues must be listed on Google Places to be verified.
What is the criteria for a venue to become a GoVida Verified Venue?
We believe that "variety is the spice of life" and that there are many different types of activities that have great wellbeing benefits.
We are continuously looking to verify further venues and these can range from gyms and pilates studios to dance studios and meditation centres. We examine each venue and we aim to determine each venue verification request within 72 hours.
What are the GoVP values of the Challenges?
Our GoVida Challenges provide a fantastic way to increase your GoVP balance and improve your wellbeing.
| | |
| --- | --- |
| Challenges | GoVida Points (GoVPs) |
| GoVida 24-Hour Step Challenge | 3 |
| GoVida Marathon Challenge | 9 |
| GoVida 3-Day Challenge | 6 |
| GoVida Check-In Challenge | 15 |
How do I earn Bonus Points?
Users can boost their GoVP earnings through Bonus Points. These points are in place to improve your user experience within the app by rewarding you for accepting challenges for the first time, redeeming your first reward and completing your first "Check-In".
| | |
| --- | --- |
| Bonus Points | GoVida Points (GoVPs) |
| Onboarding Bonus on Account Creation | 10 |
| Activity Tracking Bonus on linking device to GoVida | 10 |
| Location Bonus on enabling Location Settings | 10 |
| Challenge Bonus (on accepting each challenge for the first time) | 10 |
| Reward Bonus (on redemption of first reward) | 10 |
| Check-In Bonus (on completing first Check-In) | 10 |
| Profile Bonus (on full completion of Profile) | 10 |
How do I sync my Activity Data?
First you must allow permission for GoVida to sync your activity data from HealthKit on iOS (Iphone) or GoogleFit on Android OS. Once connected GoVida will sync this data with the app and you can earn GoVida Points, Take part in Challenges and appear on Leaderboards.
On occasions there may be a short time lag between HealthKit or GoogleFit data syncing with the GoVida app. To get the most updated activity data on your dashboard and leaderboard:
Open the GoVida app.
Go to the Home Dashboard screen.
Refresh your Home Dashboard by pulling down on the screen until you see the "refresh" symbol fully rotating. (See Image)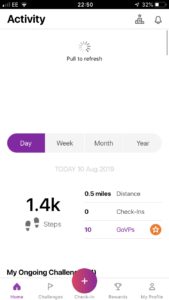 How do I redeem a Reward?
The rewards section in the app has 2 tabs:
All Rewards
My Rewards
All Rewards show all the rewards that are redeemable. Some of the rewards will be delivered by your organisation and others are from GoVida's Reward affiliates.
To redeem a reward you must have enough GoVPs to cover the GoVP requirement for that reward.
If you do have enough GoVPs and and you would like to redeem your points for this reward – press the Redeem button. You will be asked a second time to confirm this request. Following this you will see this reward under your My Rewards section.
For employer rewards that require authorisation the reward will be listed as "pending" until authorised. Once authorised user will receive a notification and email and reward will be marked as delivered. (See Images Below)
GoVida powered rewards will deliver the reward via email to your work email address immediately.