How do I link my Huawei Health to Google Fit?
Huawei Health bands and watches can be connected to GoVida via your phone's activity App (Google Fit) allowing you to earn points from steps and activity. Therefore, in order to link Huawei to GoVida, we must first link it to Google Fit.
Click here to find out how to create a Google Fit account.
Once you have your Google Fit account created, please follow the steps below:
Open the Huawei Health app and select the "Me" tab at bottom of page (Fig 1)
Then select "Settings" (Fig 1), "Data Sharing" (Fig 2) and select "Google Fit"
Next, press the "Link" button at the bottom of the screen
Select the Google Fit account that you have created (Fig 3) and allow Huawei Health to access your Google Account by pressing "Allow"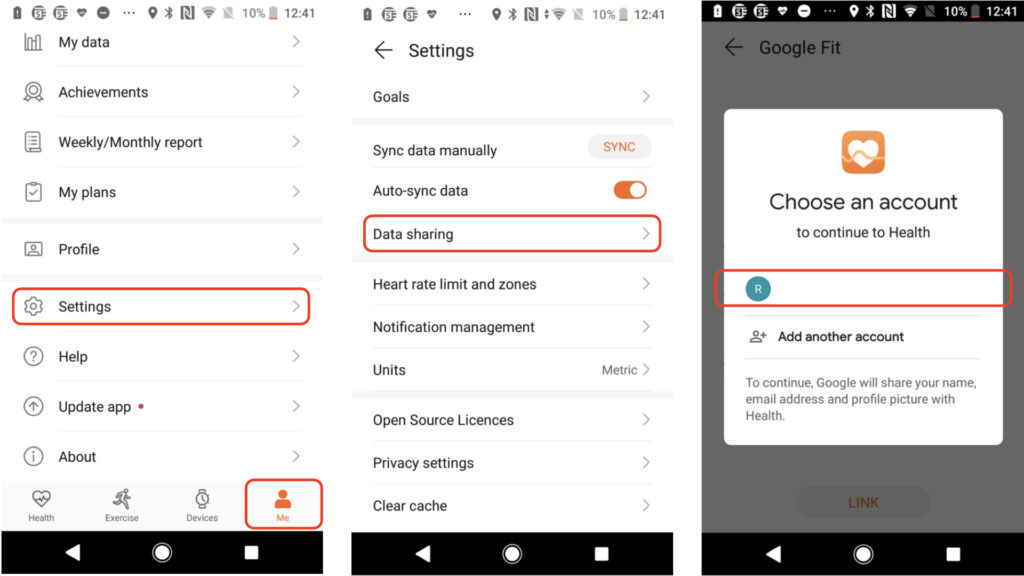 How to Sync Steps to GoVida
Once you have successfully linked Huawei Health to your Google Fit account, you should sync your Huawei band to the Huawei Health app to make sure your steps are showing correctly there.
Next, you should open the Google Fit app to allow your steps from Huawei Health to pull into Google Fit.
Once your steps are showing correctly in Google Fit, it is time to sync Google Fit to the GoVida app. To find out how to do this, please click the link here.
If you need any further assistance, please contact support@govida.io