Gamification
GoVida applies goal-setting principles to inspire positive wellbeing. Our gamification is designed to be inclusive with users earning points from their physical, mental and personal development activities.
Check-in at your favourite wellbeing venues like gyms or yoga studios
Earn points from your daily steps and physical activity sessions
Earn points from attending an art class, learning a foreign language or relaxing with a pre-sleep meditation
Learning & Education
GoVida+ delivers high quality wellbeing and personal development content in video, audio and interactive formats.
Users have access to extensive libraries of wellness programs. Includes: tools and information to support wellbeing with content from therapists, coaches and psychologists in areas ranging from mindfulness and meditation to emotional intelligence and resilience, nutrition, exercise and sleep.
GoVida recently partnered with Les Mills to deliver their science powered wellness content to users.
Community
Wellbeing is a great medium for connecting people and GoVida brings colleagues together from different parts of an organisation building meaningful relationships, enhancing collaboration and helping to create an authentic wellbeing culture.
GoVida provides an engaging communication channels to drive and create a positive wellness culture.
Promote Internal Wellness Events – colleagues earn points for participation
User Newsletters – to promote specific wellness themes
Colleague Stories – inspiring colleague wellbeing journeys
Wellbeing Blogs – educational and themed around relevant wellness topics
Weekly User Reports – check and track your own progress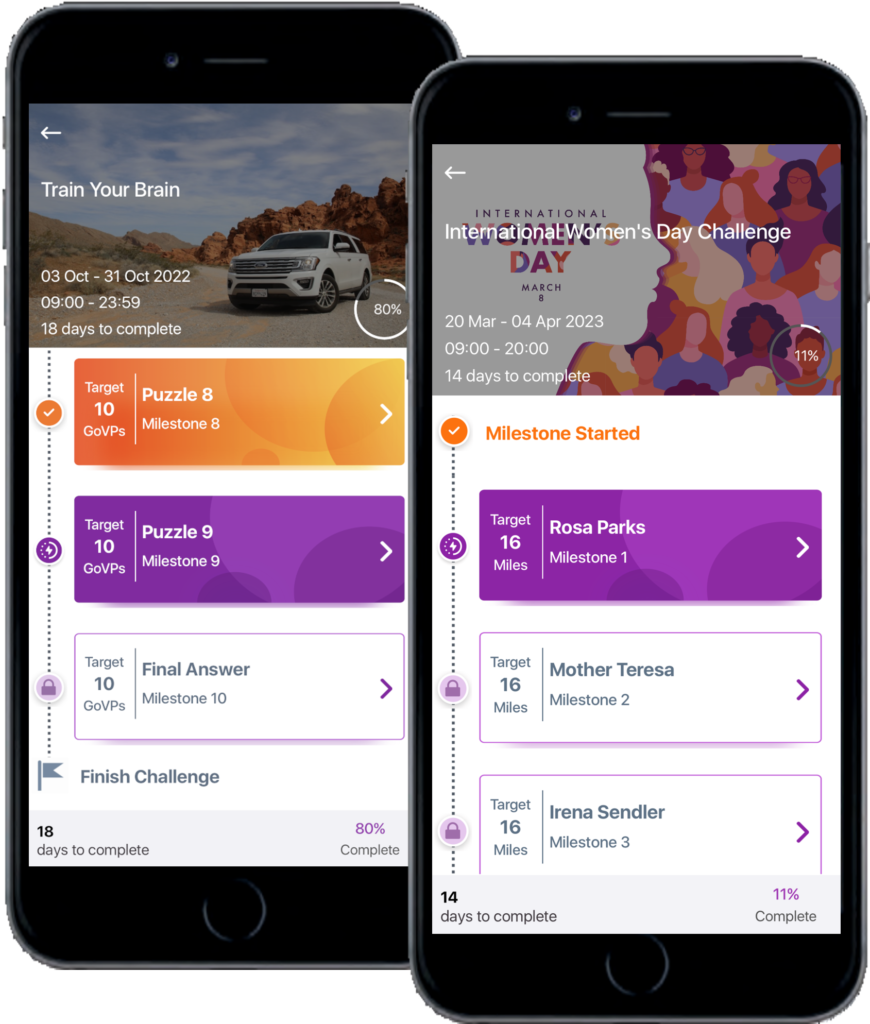 GoVida Team Challenges
GoVida's team challenges encourage mental, physical and social wellbeing with colleagues teaming up in healthy competition to achieve a shared goal. Take the Challenge to find out more.
Reward & Recognition
GoVida provides organisations with rewards and discounts from our extensive catalogue of global brands. Rewards are configured to suit client requirements and branded with your company logo.
Automated gift card fulfilment
Discounts on courses and self-development
Add your own company discounts and incentives
Reward your teams
Charitable Giving
GoVida enables organisations to combine their CSR / Sustainability and Wellbeing strategies.
GoVida has helped its clients to support charities all over the world through the volunteering and wellbeing activities of their teams.
Providing users with a "Higher Purpose" acts as a significant "Pull" factor in driving adoption and proactive wellbeing engagement.
CSR drives wellbeing engagement
Promote CSR volunteering days
Support foundations / charities
Unify organisational values
Everyone contributes
Make a positive impact
Data and Analytics
The GoVida Admin Portal has been developed for business enabling them to integrate all their wellness initiatives under a single unified platform.
GoVida's Analytics Dashboard provides real-time aggregated insights into the wellbeing of your organisation.
Embed existing wellness support (EAPs, PMI, etc)
Provide aggregated wellbeing insights
View trends by department / geography / demographic
Build targeted wellbeing strategy
Measure impact of initiatives
Want to inspire your teams' wellbeing with GoVida?
Talk to us about how we can help you get proactive, holistic and engaging with your wellbeing strategy.