Activity Tracking
GoVida directly integrates with Apple Health, Google Fit, Strava, Garmin and Fitbit, and users can track their daily steps and physical activity automatically through our app.
Our steps aggregator provides users the freedom and flexibility to track their activities from multiple sources at the same time.
Track all physical activities from checking at wellbeing venues like gyms or yoga studios to exercising at home or outdoors.
Proactive Mental Health
GoVida frames mental health in a positive light by providing users with daily tools and information to support their mental wellbeing.
Our Mind Suite consist of content derived from therapists, coaches, authors and psychologists in areas ranging from mindfulness and meditation to emotional intelligence and resilience as well as sleep and nutrition.
Gamification and Reward
GoVida's gamification applies goal-setting principles enabling users to earn points, compete with colleagues and unlock rewards from their positive wellbeing activities.
Team Challenges
GoVida's Team Wellbeing Challenges help drive positive wellbeing habits as well as bring your people together. Our challenges incorporate both physical and mental wellbeing activities and serve as a fun and effective way to create a wellbeing culture.
Run team challenges across your whole organisation
Pick teams and create prizes / charity
Analytics on impact
Charitable Giving
Combining charity fundraising initiatives with your wellbeing strategy increases the awareness and impact of both; with wellbeing driving your Corporate Social Responsibility (CSR) initiatives and your CSR supporting your wellbeing strategy.
Support your company foundation/charities
Unify your company values
Everyone contributes
Make a positive impact
£15,300

raised for charity so far by GoVida users!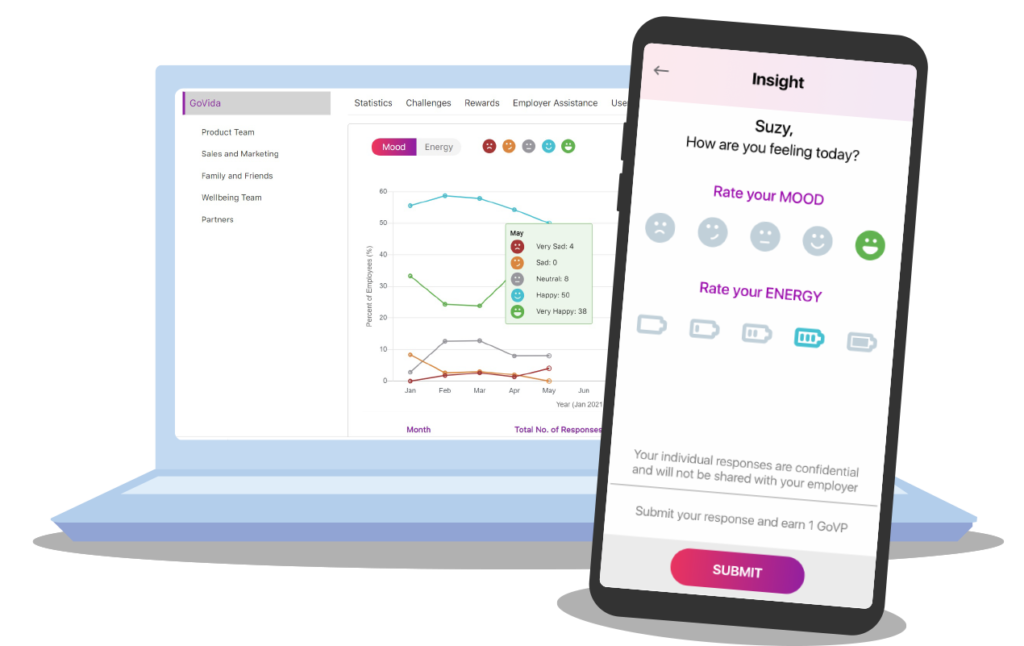 Admin Dashboard
GoVida's admin portal with wellness analytics dashboard provides you with a light touch view of the aggregated real-time data on the wellbeing of your teams.
Capture the team's mood and energy levels
View trends over time by department
Build a targeted wellbeing strategy based on real data
Promote and measure the impact of your initiatives