GoVida nutritionist, Nick Wall, has created 10 healthy meals and snacks designed to provide you with the balance of nutrients to keep you feeling energised and ready to take on the day.
Pancake Berry Stack (Serves 1)
Who does not love a pancake? Whether its the weekend and you have a little more time to cook breakfast or its Pancake Day itself, here is an amazing, nutritious treat that's easy to make. In this recipe we have used porridge oats as – they are great for lowering cholesterol, blood pressure and controlling blood glucose levels. Plus you get a hit of calcium from the milk to maintain strong bones and nerves, and the bananas help with digestion amongst many other things coming from all its nutrients.
Ingredients
Low Calorie Spray Oil
80g / 2.8oz Porridge Oats
Banana (optional)
100ml / ½cup Milk
Tsp Baking Powder
Handful of Berries
Method
Blend the porridge, banana, milk and baking powder for 20 seconds.
Heat the cooking spray in a pan then pour the mix to the pancake size of your choice. Cook on one side for 1 minute then flip and cook on the other side for a minute. Each fresh pancake spray a couple of sprays of oil before adding the mix to the pan.
Stack them up and serve with a handful of berries. It really is that simple.
Pad Thai (serves 4)
Did you know that Pad Thai follows a Thai culinary tradition of using all 5 tastes, salt, sweet, sour, bitter and spicy? which is why it feels so great on your taste buds, it fires them all. Did you also know that the Pad Thai is often served alongside Hua Prees which are baby bananas?
Ingredients
500g / 1.1lbs Prawns/Chicken/Tofu
Tbsp Syrup
Onion
Garlic
Chilli Powder
Mange Tout
2 tbsp Peanut Butter
Handful Crushed Peanuts
200g / 7oz Fat Free Yoghurt
Rice Noodles
Method
Heat your pan with spray oil or tsp olive oil and fry your onion and garlic. If using chicken add that too and cook for 5-10 minutes. Throw the mange tout and the noodles in for a couple of minutes then add the peanut butter, syrup and spices.
Right at the end add in the yoghurt stir and serve. Finish with a sprinkle of crushed peanuts on top.
Tikka Masala (serves 5)
I mean who doesn't love a good curry and are there any more popular than a good old tikka masala? This dish is bursting with flavours, watches the waistline and is light on the pocket. A great source of protein to keep those muscles strong if using chicken or fish, with an added boost from the yoghurt adding a nice bit of calcium in there too. Then we have the mighty spinach loaded with nutrients including:
Vitamin C – promotes immune function.
K1 – essential for blood clotting.
Folic acid – vital for pregnant women and for cell function and tissue growth.
Iron – helps create haemoglobin that delivers oxygen to your body's tissues plus calcium just to name a few. It really is a super food!
Ingredients
4 Chicken Breasts, Fish, Meat Substitute
1 Onion
Garlic
Ginger
400g / 14oz Tinned Tomatoes
Spinach
6 tbsp Natural Yoghurt
Tikka Spice Powder
Cayenne Pepper
Rice
Method
Chop onion, garlic and grate ginger then blend up. Cook the chicken in a pan for 5 minutes then add the blended mix. Stir in the tomatoes and spices with ½ cup of water and simmer for 2 minutes. Finally add the spinach, stir in the yoghurt and serve with rice.
Healthy Katsu Curry (serves 5)
This is a fantastic dish that feels like a take away and is really quick and simple for those nights you are on the go. Did you know garlic and onions not only make meals taste great but could help lower blood pressure and cholesterol as well as supporting immune function?
Ingredients
1.5 Onion Diced
Garlic
5 Chicken Breasts OR 500g / 1.1lbs Tofu
2 tbsp Curry Powder
2 tbsp Light Soft Cheese
Tenderstem Broccoli
Mixed Peppers
Rice OR Rice Noodles
Spray Oil OR 1 tbsp Olive Oil
Method
Slice chicken or tofu into strips and stir fry in pan. Once cooked set aside and then for the sauce, lightly fry the diced onions and garlic, add the curry powder and salt to taste and simmer for 2 mins. Blend the sauce using a hand blend or nutri bullet style blender.
Add the sauce back to the pan stirring in the light soft cheese. Then add the chicken back serving with tenderstem broccoli on a bed of rice or noodles.
Mexican Chicken Stew (Serves 5)
This is the perfect warming dish for those cold dark nights. Many of the ingredients are fantastic for the body. Firstly we have a good hit of veg in the dish as well as the beans which are full of fibre. This helps us feel fuller for longer and improves our heart and gut health amongst much more. Protein is an important part of our diet and key to building and maintaining many types of body tissue including muscle. With the addition of quinoa and beans even without the meat for the vegetarian and vegan population it's a great dish. Adding tofu or more beans is also a great way to increase the protein of the dish if you don't eat meat.
Ingredients
1 tbsp Olive Oil
1 Onion
2 Red Peppers
3 tbsp Chipotle Paste
2 x 400g / 14oz Tinned Tomatoes
5 Chicken Breast
140g / 5oz Quinoa
1 x Chicken Stock
1 x 400g / 14oz Tin Beans (Black, Mixed, Pinto)
Coriander
Juice of 1 Lime
Natural Yoghurt
Method
Fry the chicken for 5 minutes then add the onions and peppers until softened. Stir in the chipotle paste, followed by the tomatoes and half cup of water and simmer for 15 minutes
Boil a pan of water with the stock cubes and add the quinoa. Cook for 15 mins until tender, adding the beans for the final minute. Drain well and stir in the coriander and lime juice, then season.
Lift the chicken out onto a board and shred each breast using two forks. Stir back into the tomato sauce and season. Serve with the quinoa, scattering the stew with some coriander leaves and a dollop of yogurt on the side.
Mediterranean Pasta (Serves 5)
This is a fantastic dish to have after a workout. The carbohydrates from the pasta will really help your body recover quicker to keep energy levels high. Choosing wholegrain pasta has almost double the fibre as white with a serving providing a third of the daily recommended fibre intake. Then we add in all the goodness of the garlic and vegetables and we have a real winner.
Ingredients
2 tsp Olive Oil
1 Large Onion
3-4 Garlic Cloves
Chargrilled Mediterranean Veg
Handful Cherry Tomatoes Halved
2 tbsp Raisins
300g / 10.5oz Fusilli or another short pasta shape
Basil leaves
Parmesan grated
Method
Heat the oil in a large pan and cook the onion for 8-10 mins until starting to caramelise. Add the garlic for the final 2 mins of cooking time.
Add the mixed veg, tomatoes and raisins. Season well and simmer, uncovered, for 10 mins.
Bring pan of water with a little salt to the boil. Add the pasta and cook until tender, then drain.
Tip the pasta into the sauce. Scatter with the basil leaves and parmesan and serve straight from the pan.
Sticky BBQ Beef Strips (serves 4)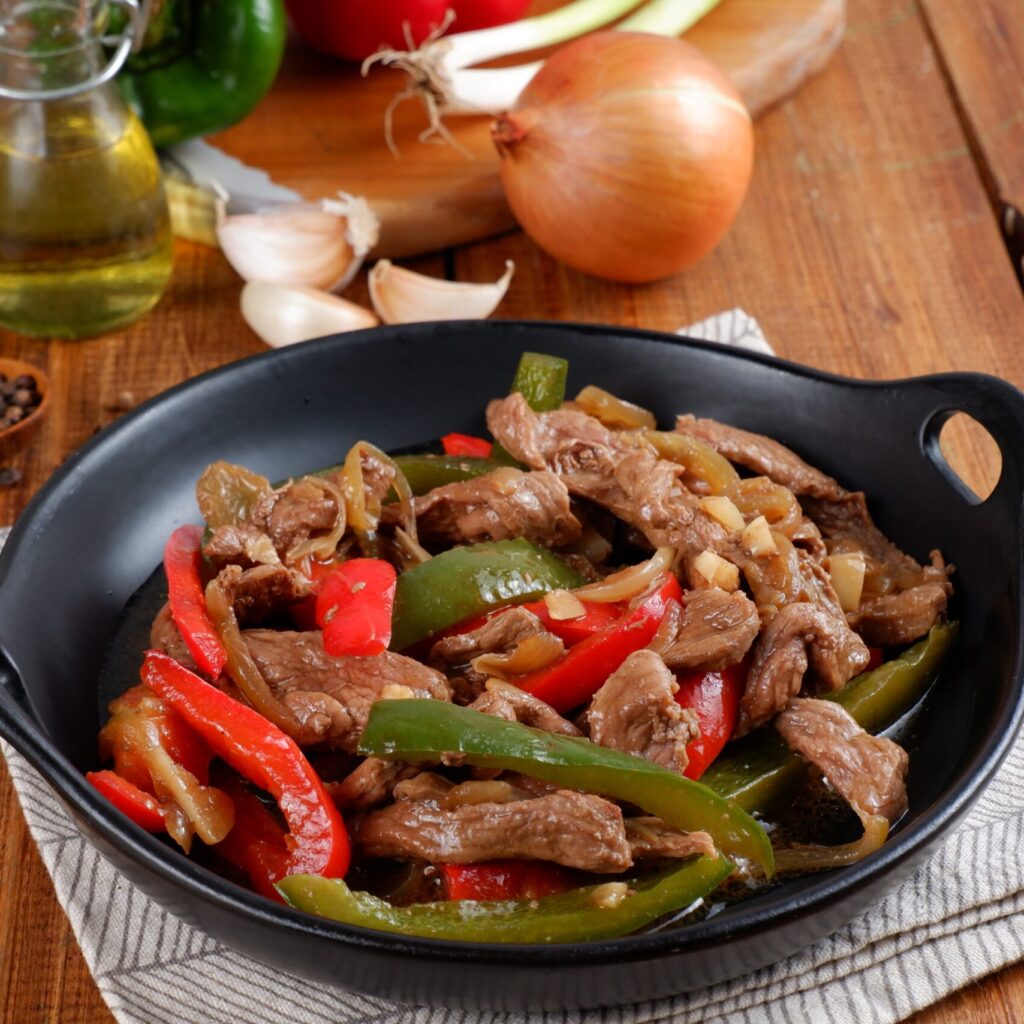 Beef is a good source of protein, vitamins and minerals. Red meat provides us with iron, B vitamins and zinc. Did you know that the department of Health and Social Care in the UK advises approximately 500g / 1.1lbs cooked weight red meat per week?
Ingredients
500g / 1.1lbs Beef
Peppers
Onions
Garlic
Sesame Seeds
100ml / ½ cup Passata
4 tsp Honey
Paprika
4tsp Worcester Sauce
4tsp Balsamic Vinegar
Method
Slice the beef into strips with the peppers, garlic and onions and flash fry.
Move the mix to an oven proof dish and mix in all the other ingredients so that it evenly covers the meat and veg. We don't want the sauce runny, we want it to be able to become sticky.
Put the mix in the oven for 20 minutes. Sprinkle with sesame seeds and serve with rice.
Baked Pork with Lentils (serves 4)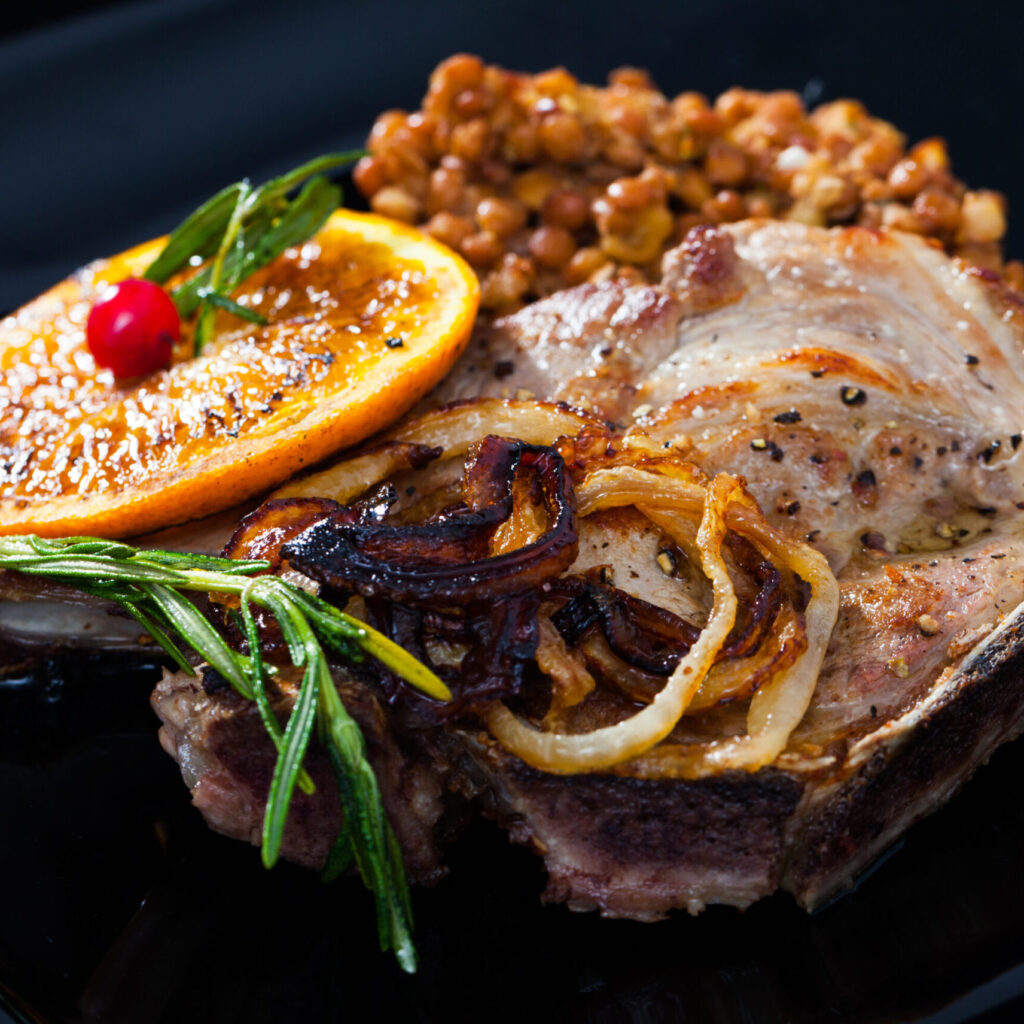 Lentils are a real powerhouse. They are known for so many benefits including lowering cholesterol, stabilizing blood sugars, increasing energy, super protein source, great for digestive and heart health and really help you keep fuller for longer. Add that to hitting a few of your 5 a day in this dish and it's a real winner.
Ingredients
500g / 1.1lbs Lean Pork Loin or 4 Pork Chops
500g / 1.1lbs Lentils
1 x 400g / 14oz Tinned Tomatoes
2 Carrots
Onion
Garlic
1 x Stock Pot
2 tbsp Balsamic Vinegar
Thyme
Orange
Method
Firstly put the thyme on the pork and place in the oven. Next boil a pan of water and add the lentils and simmer for 20 minutes.
In a separate pan fry the onion, garlic and carrots. Then drain the lentils add tomatoes and stock pot and simmer for 5 minutes and add the balsamic. Add the lentils to your pan and place pork on top. Serve with vegetables of your choice and garnish with a slice of orange.
Banana Bread (makes 6-7)
This is fantastic as a snack, great with a cup of tea or coffee or tasty as a dessert with some yogurt. The porridge is fantastic for lowering cholesterol, blood pressure and controlling blood glucose levels. It really is one of my favourites. You get the calcium from the milk (if using a milk substitute make sure it has calcium) to maintain strong bones and nerves. Then the bananas can help with digestion, regulate heart function, lower blood pressure and are a great source of potassium, Vitamin B6 and C.
Ingredients
120g / 4.2oz Plain Porridge Oats
2 x Bananas
½ tsp Cinnamon
Milk- Half Cup
Pinch of Salt
Tsp Baking Powder
Berries – Handful
Method
This really is very simple. Add all ingredients (not berries) to a blender and blitz. We want the mix quite thick. Add the mix to a baking dish then drop in the berries and heat at 180 degrees for 30-35 mins.
Healthy Cheesecakes (Serves 4)
The cholesterol lowering positives of porridge oats, the calcium from the yoghurt and the nutrition content of the fruits make this a perfect snack or pudding after a meal. It is low in sugar, low in fat and light.
Ingredients
For the base
80g / 2.8oz Porridge Oats
2 Digestive Biscuits
For the filling
400g / 14oz Fat Free Greek Yoghurt
90g / 3.1oz Reduced Fat Soft Cheese
1 tbsp Granulated Sugar
To decorate
Crushed Almonds OR
Berries
Method
For the base blend the porridge and digestives with 100ml / ½ cup of water. Add to a baking tray and cook for 20 mins, split into 4 pots then leave to cool.
For the filling mix up the Greek yoghurt, soft cheese and sweetener.
Once the base has cooled add the filling to the pots and smooth over. Leave for 5 minutes then sprinkle with crushed nuts and/or your favourite fruit.
Related Health & Wellbeing Blogs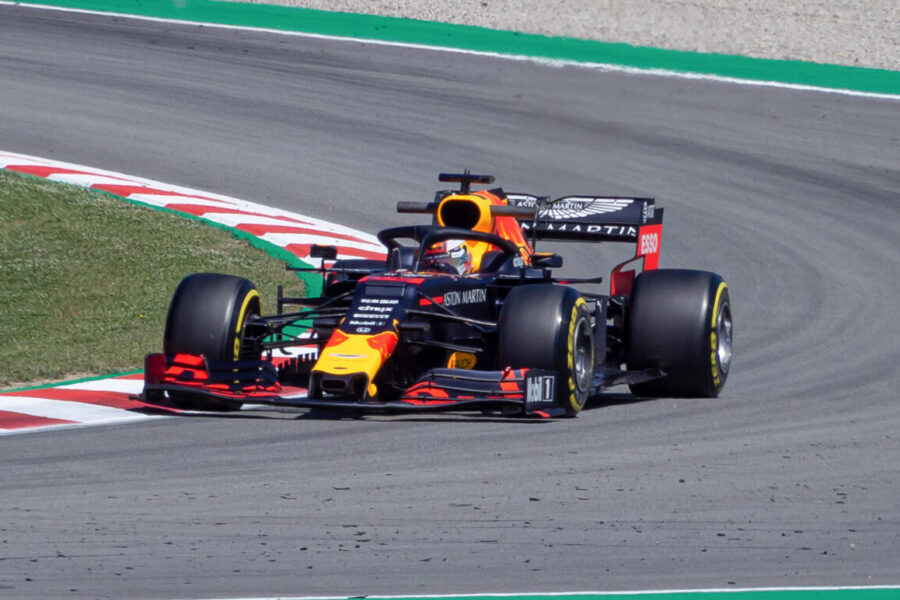 If you drive for a living, you might not think of yourself as comparable to Lewis Hamilton or Max Verstappen – but some of the demands on you, as a long-distance lorry driver, really do overlap with the elite of the racing world.
Read this blog
All wellbeing blogs